As your partner, Svensson can help you maximize your energy savings potential to get the best return on your investments. Our climate advisors have years of experience in developing energy savings strategies, screen selection, rebate applications, energy savings modelling, and so much more. Using specialized tools like our energy calculator, our experts will work closely with you to help you achieve your energy savings goals and take the next step towards a more sustainable horticulture industry together.
Leveraging climate screens to reduce energy consumption
One of the best ways to reduce energy costs and improve energy savings in your greenhouse in through climate screens. Depending on which screen you choose, the screen's installation, and how often you use it, you can cut costs by 10% to 70%. Energy screens have the added appeal of quick ROI through energy saving: Single screen layers see an average ROI of less than three years and in some cases, less than two.
Trying to save as much energy as possible is the main goal; however, we should also take note of the greenhouse climate during the application of energy saving screens. In addition to energy savings, screens also offer high light diffusion and good moisture transfer properties which allows for longer screening hours without the need to gap. When combining all of these factors, we can expect the crop to grow faster and healthier due to an even, homogenous climate.
Energy savings tools and resources for growers
Developing an energy savings strategy can feel overwhelming. While our advisors are always available to assist you, we have also compiled several resources that can support growers in exploring options to reduce their energy consumption.
Energy Savings
Screening Guide
In this guide, we explore ways for growers to reduce their energy consumption while maintaining crop quality and yield by using energy saving climate screens.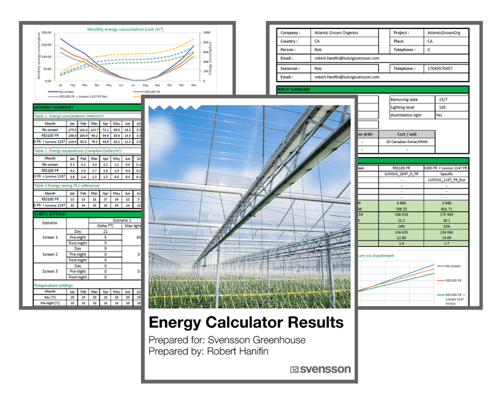 The energy calculator is a digital tool that is used to simulate energy consumption in various mature greenhouse models by comparing different screen solutions.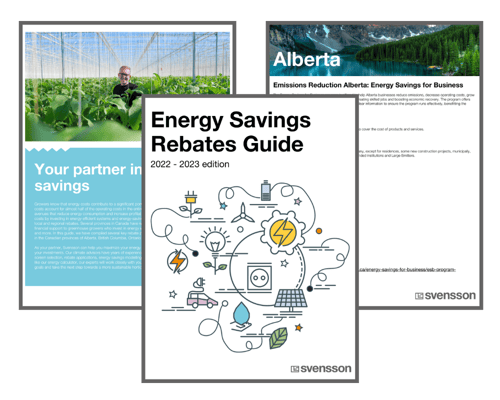 2022-2023 Energy
Rebates Guide
We have compiled several key rebate programs that greenhouse growers qualify for in the Canadian provinces of Alberta, British Columbia, Ontario, and Quebec.
Case studies: From one grower to another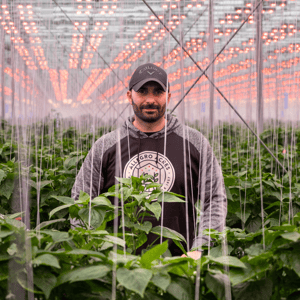 Allegro Acres
"After installing a LUXOUS 1147 screen for energy conservation/light diffusion and an OBSCURA 9950 screen for light abatement, we saw a 40% savings in heating energy."
Allegro Acres, a family-owned and operated pepper greenhouse located in Ruthven, Ontario, has been trailblazing a path in sustainability and efficiency for over 20 years. Today, Gene Ingratta, President of Allegro Acres talks about what it means to be sustainable in horticulture, the challenges faced by growers in Canada, and the path to further reducing the environmental impact of growing.
HortiPolaris
"We use our Obscura screen as a tool for added energy savings in addition to preventing light pollution. At night in the winter, we closed the two screens together, and the energy savings were up to 60%"
A 3.3-hectare high-tech greenhouse in Miyun, Bejing built by BUCG and HortiPolaris in January 2018, has since started production. The facility includes a tomato production area spanning 2.2 hectares, 2000m2 of lettuce, and a 2000m2 propagation area. Svensson screens are used to control the climate better and save on energy costs during the winter, which has helped achieve the target yield and exceptional product quality.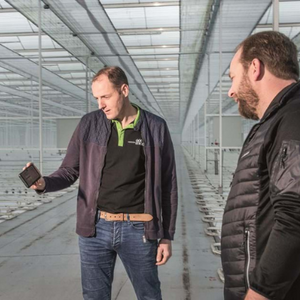 Kwekerij Moors
"Thanks to the Luxous 1147 FR screens, we save maximum energy in winter, even a little more than with our other energy screens. At the same time, the plants receive more light."
At the end of 2019, Kwekerij Moors in Asten took a new five-hectare greenhouse into use. To optimize the light penetration into his crop, pepper grower, Rob Moors opted for diffuse glass. At the same time, he invested in two Luxous 1147 FR screens from Svensson. The latter turned out to be the right choice: Moors optimally saves energy while still guaranteed a maximum amount of light in his greenhouse.
Are you ready to develop an energy savings strategy for your greenhouse?