We all need advice
sometimes
Get in touch with Pieter - Do you have a specific question
for Pieter? Or would you like to set up a time to discuss
your greenhouse climate on a deeper level?
Either way, our experts are here to talk anytime.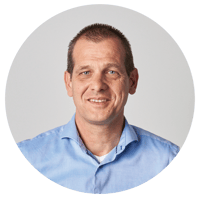 Pieter Mol
Netherlands, France & Mediterranean region
About Pieter
Supports installers and growers in the Netherlands and abroad in choosing the best climate and screen solutions.
Pieter Mol's entire life has revolved around flowers and vegetables. He grew up in the main Horticultural area in the Netherlands, Westland, where he studied at the Horticultural School and worked in horticulture. As a consultant, Pieter helps to improve production and ensures the best possible results for the users of Svensson climate screens.
Area of expertise:
Climate screens
Climate solutions
Send a message to Pieter!